Welcome to Arabian Nights!
| | |
| --- | --- |
| Ship design: | steel ship, length 37 m, width 9 m |
| Max. guests: | 22 |
| Language(s) spoken aboard : | Englisch |
| Region: | Sultanate of Oman, Halaniyat Islands |
| Diving: | DIN and INT ports, 2 tenders. Nitrox for an extra charge, some rental gear available upon request and for an extra charge |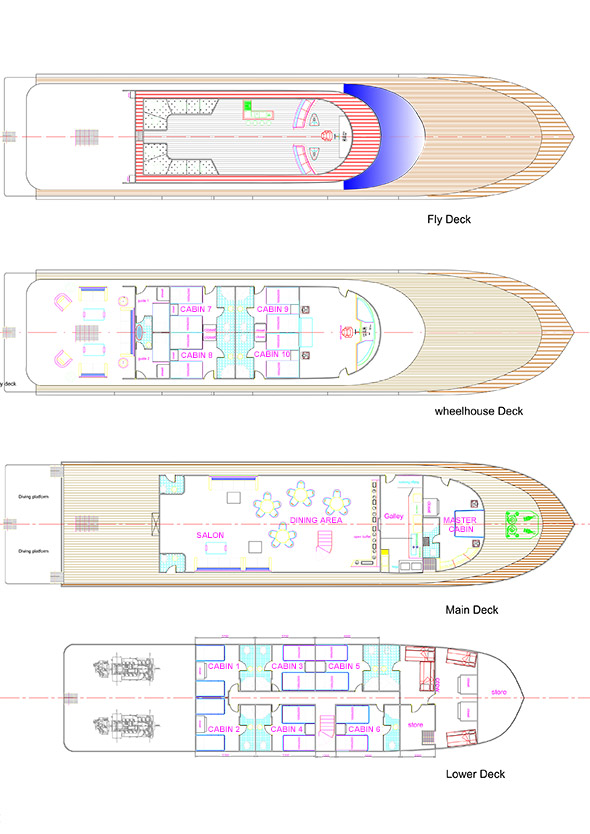 The Saman Explorer has been in use since 2011 and cruises in the best diving sites of Oman. In 2015 the steel ship was remodelled and modernised; one of the improvements was the addition of a 20-square-meter master cabin. Now, the ship accommodates 22 divers. Surrender to the irresistible charm of the underwater version of Arabian Nights!
The southern part of Oman still ensnares the senses with its originality and pioneering spirit. As a traveller, you dive into a world that has not yet been transformed by mass tourism. Therefore, diving safaris in Oman always have a touch of adventure and unpredictability. Although a smooth run cannot be guaranteed, everybody on site is zealous to make your holiday an unforgettable and exciting event.
Guests choose among six double cabins on the lower deck and four double cabins on the upper deck. All beds are single beds and every cabin has air conditioning and private bathrooms. For uptown tastes we offer the new master cabin: Here you enjoy the benefit of a 20-square meter room with king-sized bed, minibar, and TV. A special highlight are the two opposing windows that offer a view of the sea.
The kitchen provides hungry divers with all meals, including coffee, tea, and drinking water. For those who are used to enjoy an aperitif or a nightcap, please note that only beer and wine are available. Alcohol is not available at Salalah Airport either.
Adventure-oriented divers will enjoy underexplored dive sites. A humpback population lives faithful to their habitat close to the islands. Big sea bass and mantas are also part of the local fauna. With a little luck you might even discover a new wreck – legend has it that some ships from Vasco da Gama's fleet have sunk here.
Please note that the visa for Oman has to be paid upon arrival (at the moment approximately 40 euros). A compulsory diving permission applies as well (4 Omani Rial at the moment; this equals about 48 Euros for 6 diving days). Costs incurred may only be paid in cash!