Walk in the footsteps of Shackleton and experience polar adventures!
| | |
| --- | --- |
| Max. guests: | 116 |
| Electricity: | 220 V |
| Language(s) spoken aboard : | English, bilingual cruises are offered in Dutch, French or German |
| Services included: | All meals, drinking water, tea, coffee |
| Region: | Greenland, Svalbard, Iceland, Falkland Islands, South Georgia, Antarctic PeninsulaPeninsula |
| Diving: | an experienced ice-diving crew is on board for selected trips; no rental gear available, diving is only an option for advanced divers with ice diving experience due to extreme conditions |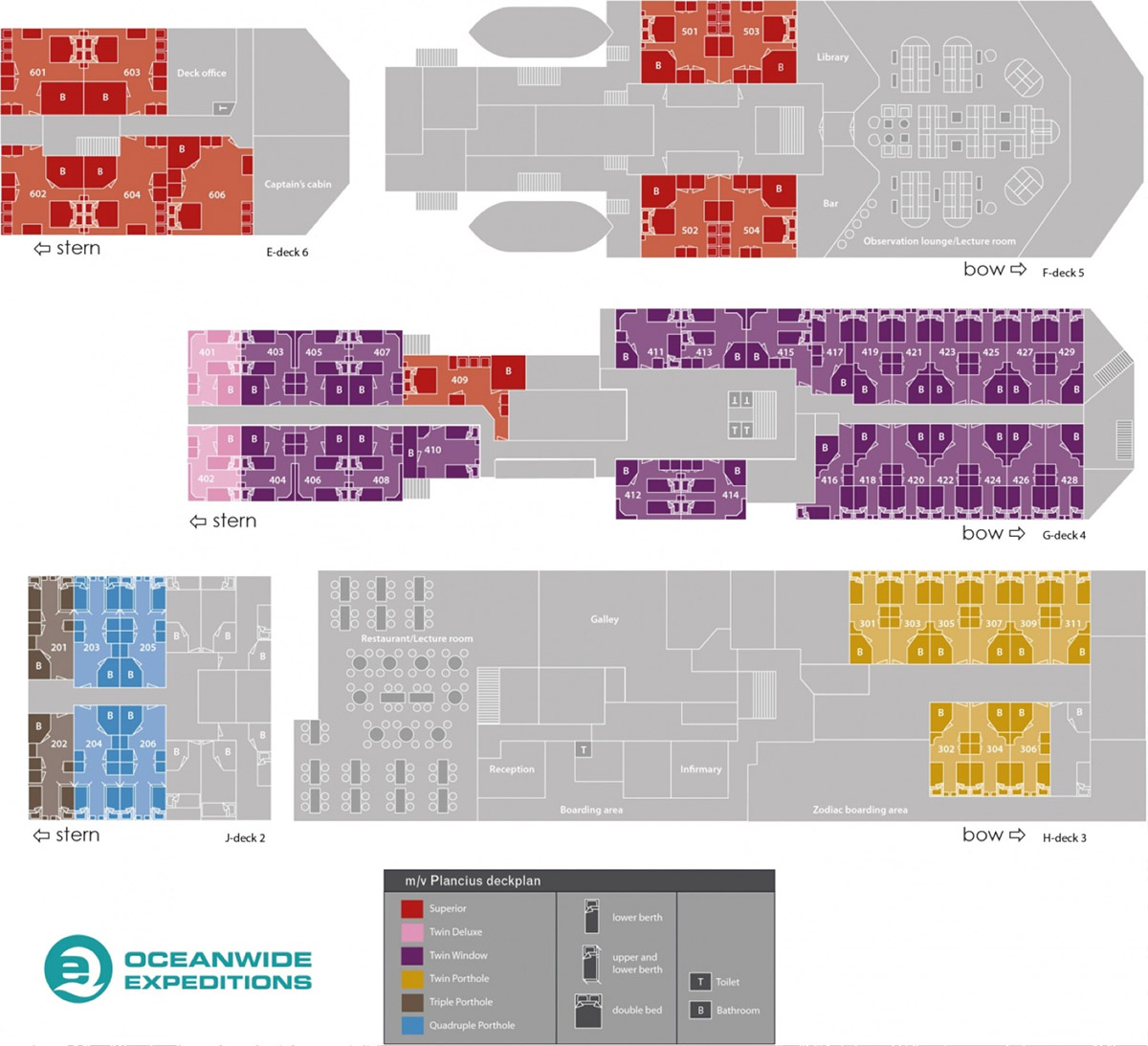 The trusted expedition vessel allows you to experience untouched nature far from any civilisation first-hand.
The Plancius is also equipped with two outer decks. Ten zodiacs (two for backup) transport passengers ashore.
The former research vessel of the Dutch navy has been cruising since 2009 under Dutch management for Oceanwide Expeditions. The ship has a length of 90 meters and accommodates 116 passengers. The electronical equipment and safety standards are state-of-the-art. All cabins have either port holes or windows and private bathrooms. 35 Twin cabins, 2 triple, and 4 quadruple cabins offer enough storage space for personal belongings. Travellers expecting more sophistication may choose one of the two Deluxe cabins or one of the ten superior cabins with double beds and additional private lounge area.
The friendly, international crew tends to the culinary well-being of all guests in the restaurant. Our guests' favourite area, however, is the spacious panorama lounge on deck five with its large window panes, its coffee/tea counter and the bar. From here you can observe the sheer force of nature's elements and the rough conditions in the polar seas and have a cup of tea in the warmth of the heated lounge.
Every day the expedition leader and a number of carefully selected polar experts inform in briefings and entertaining lectures about the peculiarities of flora and fauna at the destination. Just like aboard the sister ship Ortelius, passengers may visit the wheelhouse and watch the captain steer the ship through rough sea. The dress code is casual and usually includes fleece sweaters and warm pants. Keep a warm windbreaker jacket close at hand – the attentive crew usually announces sightings of whales and other attractions via intercom. Grab your camera and nothing can stop you from our personal polar adventure!