Gangga Island Resort & Spa
Bunaken
Hidden in the Celebes Sea close to Manado is the romantic Gangga Island Resort & Spa, located on the imaginary dividing line between the Indic and the Pacific Ocean. The turquoise blue of the ocean competes with the bright azure blue of the sky and the shimmering aquamarine of the pool.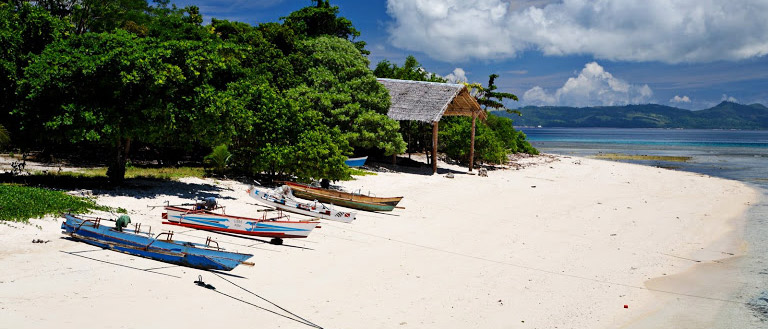 WOHNEN
A total of 30 rooms is distributed to 15 bungalows, shaded by big palm trees in tropical gardens. Each bungalow has its own patio most of them offering a wonderful view of the beach and the neighbouring islands. The rooms are decorated in dark noble woods, have a high ceiling, and are designed with great taste. The charming resort has won numerous awards and is under European management.
KULINARIK
The main restaurant with its airy atmosphere offers a great choice of Indonesian and Mediterranean dishes made from fresh, local ingredients. Two times a week barbecues take place in the "Bamboo Restaurant". The Coconut Bar offers tropical drinks and allows you to enjoy a cup of tea or some coffee specialties in tropical surroundings.
TAUCHEN & SCHNORCHELN
The Gangga Divers diving centre is a PADI 5 star Gold Palm centre with an international staff and highly qualified local guides. Five roomy boats take you to the fascinating dive sites of the Celebes Sea. The famous dive spots around Bunaken and Lembeh Strait are within easy reach. Many guests rave of the close-by reefs where one can enjoy the extraordinary biodiversity of sound reefs.
WELLNESS & AKTIVITÄTEN
The hotel boat "Cristina" is ready to take you to the neighbouring islands where you can enjoy the unique flora and fauna of Northern Sulawesi in great privacy. A snorkelling guide informs you about the peculiarities of the local wildlife. On land you may discover the world's smallest ape species tarsius tarsier with a maximum torso length of 11 centimetres or rare bird species in the Tangkoko Nature Reserve. Lahendong impresses with its hot springs and colourful waters surrounded by lush forests. Do not hesitate to contact the helpful hotel management: they will gladly organise great trips to the natural beauties of Northern Sulawesi for you!
After an exciting day you can unwind in the Pasung Spa. The therapists combine traditional, local treatments with classical aroma therapy as known in Bali – trust in the old knowledge of the locals and the healing power of essential oils!